March 13, 2018
/
/
Comments Off

on It's Raining!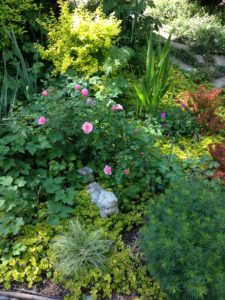 March has definitely come in like a Lion! It was iffy for a while when we went a few weeks without rain and the temperatures were up to 70 degrees F! What this means is that we will have a beautiful blooming Spring!
In my area of Northern California, historically (the last few years anyway), we've had a short spring and then we were blasted into summer…a long, hot, dry summer.
Our summers have 0 rainfall. What does this mean? It means that if you want a colorful landscape you'll need to use shrubs and perennials that not only can take the heat, but enjoy it! Which plants are these? Some of the plants that I use again and again are: Crape Myrtles – which come in ALL sorts of sizes so check the container to make sure you are buying the appropriate size for your planting area; Palo Verde (Cercidium), native to the Southwest, Kniphofia – Red Hot Pokers; different types of Yucca, dwarf Agaves, Achillea (Yarrow), Lavender, Rosemary, Rudbeckia – Black-Eyed Susans, Penstemon, Echinacea, Ground Cover Roses, Santolina, Abelia (I like using 'Kaleidoscope'); some of the Carex grasses: 'Frosty Curls' Bronze, Comans, Buchaneii'; and just about all of the ornamental grasses. This is just a partial list, I have not mentioned the evergreen screening shrubs. But it is possible to have an English Garden look in the dry heat of summer when you choose the right plants!
Now is the time – while it's raining and wet outside, to browse your plant books and start making lists of plants and combinations. When spring comes you'll be ready to go!