We are passionate about what we do and it shows!
Roberta Walker has been the recipient of awards, featured in numerous magazines, interviewed by television and radio programs, and asked to speak at various home and garden events. Click on the links below to learn more.
Print
Lessons from a Lawn-Free Makeover
Sunset Magazine
Savvy Side Yard
Sunset Magazine
Ed Goldman: Roberta Walker retrofits water-wasting lawns
Sacramento Business Journal 08/2016
Begone, lawns: Behold beauty
Sacramento Bee, 08/2016
Designer produces "Before & After – Lose the lawn to create a drought tolerant landscape" DVD to inspire sustainable —but still stunning— gardens
Arden-Carmichael News, 07/2016
Livin' Life Lawn Free
Sacramento Magazine, 06/2016
'scape Artists
Sacramento Home Magazine, Spring/Summer 2016
H20 Heroes
Sacramento Suburban Water District
Real People, Real Savings
California Save Our Water Campaign
Lawn Replacements Kicking Your Yard in the Grass
PlantCareToday.com
Television and Radio
Flower Bulbs, Fruitful Landscape, Driveway Dividers
HGTV, Gardening by the Yard, Season 19, Episode 2
Roberta Walker Landscape Design: Lose the lawn and install drought tolerant plants.
Farmer Fred Podcast, KFBK News Radio
Speaking Engagements and Home Tours
Northern California Home and Landscape Expo 2016
Sensible and Sophisticated
Elk Grove Greener Gardens Tour 2012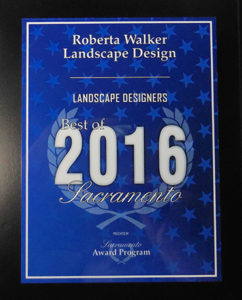 Best of Sacramento, "Landscape Designers"
Habitat for Humanity 'Hammy' Award
Roberta designed the landscapes for all of Habitat for Humanity's new-build homes in Sacramento from 2011 – 2016, Pro Bono. The homes were awarded the LEED highest rating in building Energy/Efficiency that could be awarded: Platinum. Quite a feat for building low-income housing!